Want to celebrate your dream machine?
Proudly hang up your dream car/project/teen poster car as a custom print in 4 steps:
Choose if you'd like your print framed or not. You can email us your car picture after you purchase.
2. We'll draw your poster
One of our real human artists will digitally illustrate your car, capturing all the fine details that make it yours.
3. Approve or revise draft
You'll get an email with your poster to either approve or to request changes (3 revision rounds included).
4. Get an exciting package!
Once approved, we'll print (and frame if chosen) your custom poster and get it out to you quickly.
Standard Sizing: so frames are easy to find if you'd rather buy your own.
Slim Frame: modern satin black frame gives your print a premium feel.
Quality Paper: rich colours and can be easily pinned up if left unframed.
FREE SHIPPING on qualifying orders. See at checkout.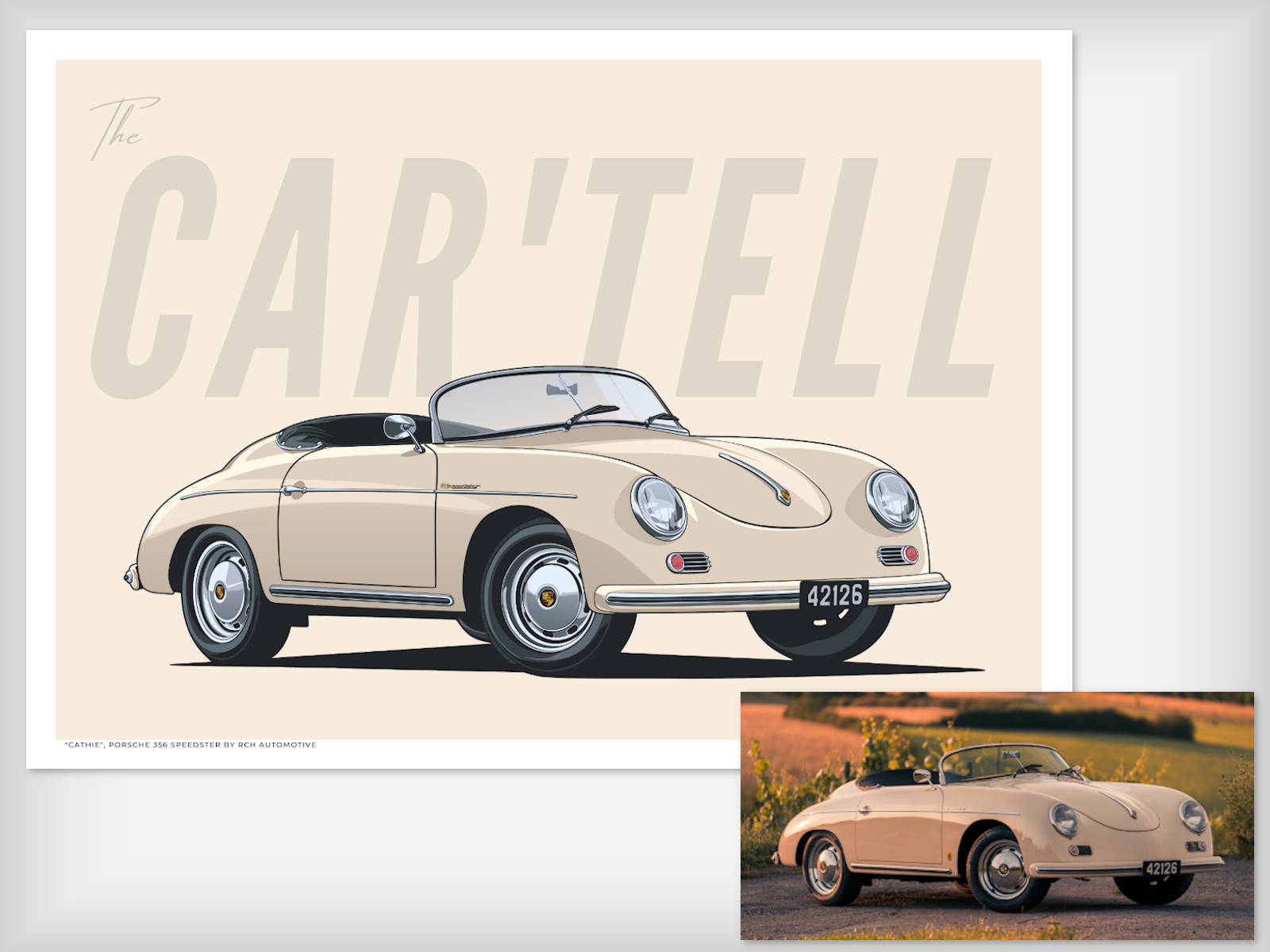 Museum-grade perspex is crystal clear and adds serious depth to your print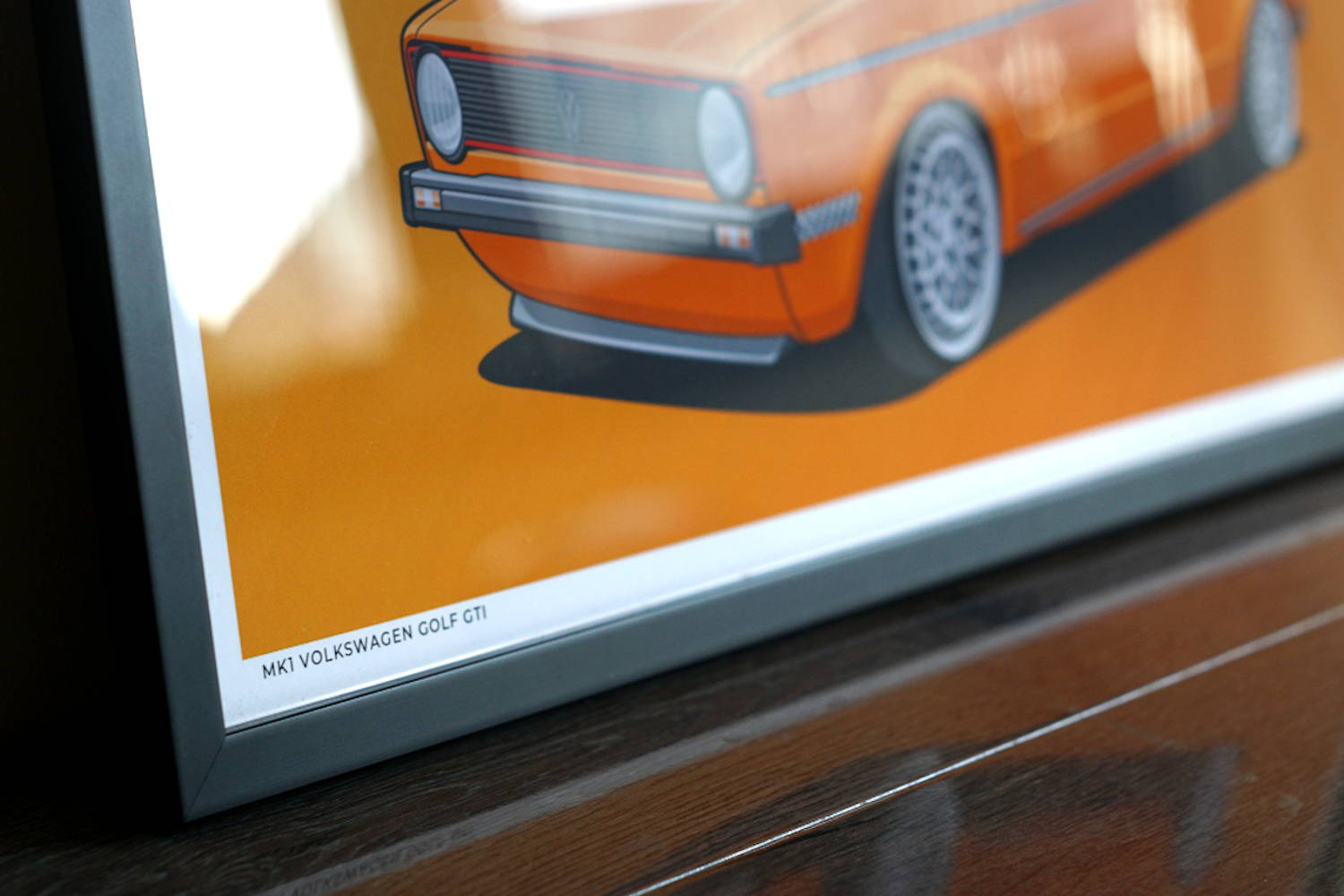 HOW MUCH IS SHIPPING AND HANDLING?
Shipping for our paper prints (no frame) to the EU & UK is free.
Shipping for paper prints outside of the above regions will be calculated at checkout.

Shipping for our framed prints is free to selected destinations, such as mainland UK. Continue to checkout to see an accurate shipping cost for your country.
CAN I FIND MY OWN FRAME FOR THESE SIZES?
Of course! Both our A2 and A3 print sizes are industry standard sizes so you'll have no trouble finding frames in any style you like.
But if you prefer to forget the hassle and would rather get your print ready-to-hang right out of the box, opt for our high-quality frame option above, available in both sizes. Our frames are strong, modern and use museum-grade perspex.
WHEN WILL I RECEIVE MY PRINT?
Given the personalised nature of the item, it will take around 4 days to create the design, then another 3-7 or so days to ship depending on where you are.
This process also depends on how many revisions you request. If you approve our initial design the print will immediately go into manufacturing. If you request revisions, these may add 1-2 days on to the production time, but we'll try and get them done asap.
The average time to receive the custom print after ordering is less than 2 weeks.
CAN I ADD A PERSONALISED MESSAGE?
Of course, we're happy to include personalised text free of charge. Typically messages such as owner name, car name, VIN, purchase date etc go in a bottom corner of the print, but you can specify how you'd like it.
Simply tell us the text to include and your style preferences in the text box during the checkout process. We'll get in touch if we need clarification.
HOW DO I HANG MY PRINT OR FRAME?
Paper Prints Only:

However you wish! Our paper posters can be stuck to the wall using sticky tack, standard poster tape, pin tacks and so on. Or you can have your print framed or mounted onto your desired surface however you desire.
Our small 6x8 print is the perfect size for a framed desktop decoration.

Framed Prints:
Our framed prints come ready to hang right out of the box, so you don't have to worry about finding special attachments or anything crazy. Just some standard wall hooks or nail in the wall will do the trick.
Alternatively, you can prop your framed print up against a surface or on a shelf for a stylish and modern decor style.
AND IF MY PRINT ARRIVES DAMAGED?
Just tell us as soon as possible and we'll send you a replacement print free of charge asap!
WHAT IF I'D LIKE A REFUND?
Of course! If you're not satisfied with your print in any way, simply let us know via email within the first 30 days of receiving it. We'll let you know how to return your print and we'll issue you a full refund if it is returned in the condition it was sent.
WHAT KIND OF PICTURE CAN I SUBMIT?
Submit your preferred perspective of the car to be drawn. We like to use the side on or front 3/4 view, but if you prefer the back of the car, for example, that's totally personal preference and we'll happily make a poster for you.
Please submit a high-quality image shot in even light (not too bright and reflective, or dark that parts of the car are obscured).
We'll draw the image you submit so please be sure you're happy with it.
WHAT IF I'M NOT HAPPY WITH THE RESULT?
You'll get 3 rounds of revisions on your custom print. Meaning if you aren't ready to accept the draft, we can go back and make changes over 3 rounds of drafting.

But if we really can't deliver a design you're happy with (which hasn't happened) we'll issue you a full refund of your order.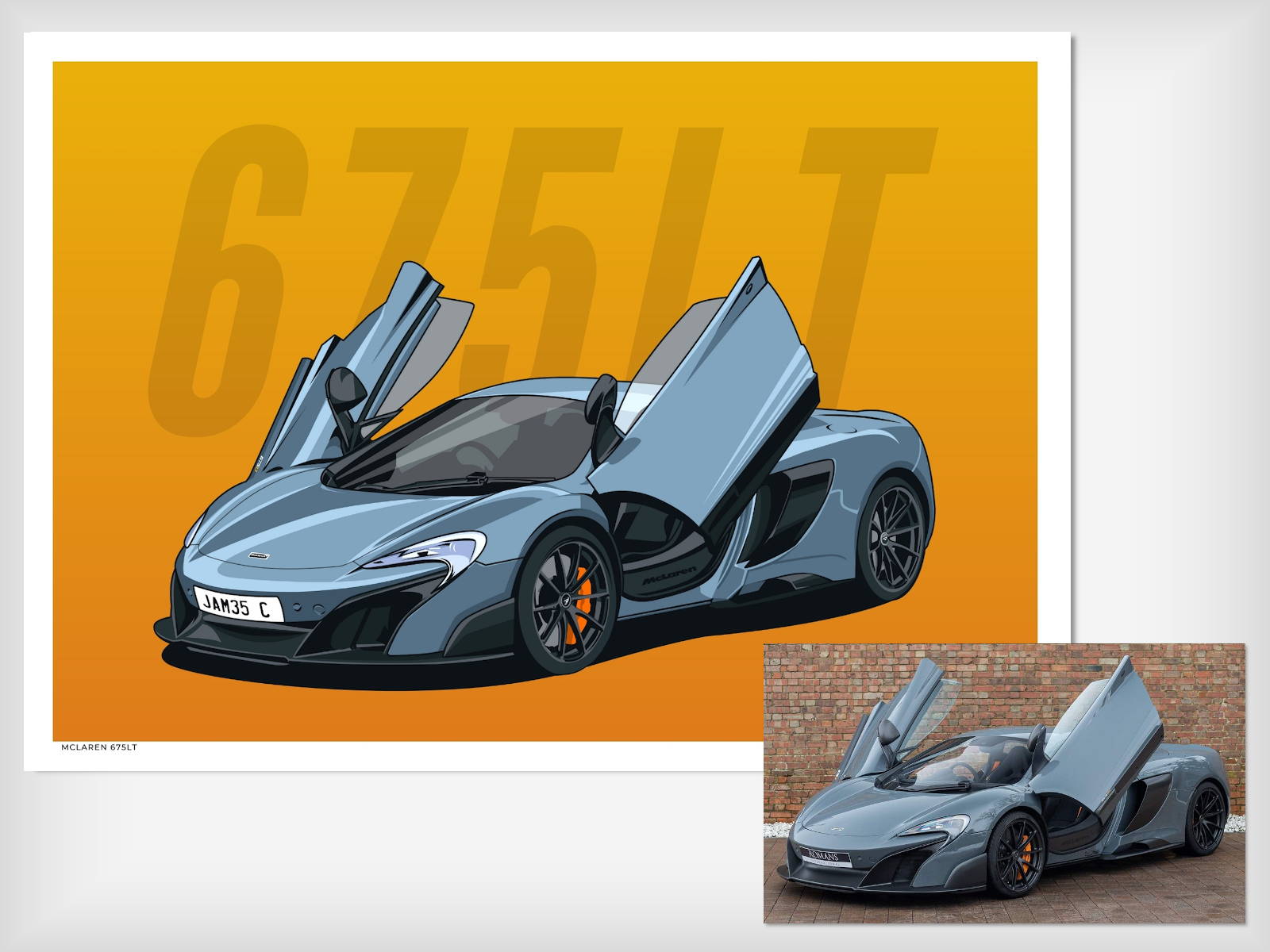 LOOKING FOR SOMETHING ELSE?